Loeschen Law Firm – Truck Accident Lawyers in Virginia
We understand the devastating impact a truck accident can have on your life. In the aftermath of a collision with a commercial truck, you may be left with severe injuries, mounting medical bills, and the trauma of the event itself. That's why we're here to help you navigate the legal process and get the compensation you deserve.
As experienced truck accident lawyers, we have seen firsthand the complexity of these cases. From determining liability to negotiating with insurance companies, there are many challenges to overcome. But with our guidance, you can be sure that your case is in good hands.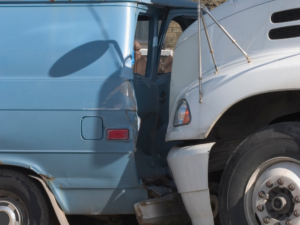 The Importance of Hiring a Truck Accident Lawyer
After a truck accident, it's essential to seek legal representation as soon as possible. Trucking companies and their insurers have teams of lawyers working to protect their interests, and you need someone on your side who can level the playing field.
A skilled truck accident lawyer can:
Investigate the accident to determine liability
Collect evidence, such as witness statements and surveillance footage
Communicate with insurance companies on your behalf
Negotiate a settlement that covers your medical expenses, lost wages, and other damages
Take your case to court if necessary
Common Causes of Truck Accidents
Truck accidents can occur for a variety of reasons, but some causes are more common than others. These include:
Driver fatigue
Speeding or reckless driving
Distracted driving, such as texting or using a cell phone
Improper maintenance of the truck
Overloading or improperly loading cargo
Driving under the influence of drugs or alcohol
If any of these factors contributed to your accident, our team can help you build a strong case for compensation.
Types of Injuries in Truck Accidents
Truck accidents can cause serious and sometimes life-altering injuries. Common types of injuries include:
Traumatic brain injuries
Spinal cord injuries
Broken bones
Internal organ damage
Severe burns
Recovering from these injuries can be a long and difficult process, and you may require ongoing medical care and rehabilitation. Our team can help you pursue compensation that covers all of your medical expenses, as well as any future care you may need.
Compensation in Truck Accident Cases
If you've been involved in a truck accident, you may be entitled to compensation for a variety of damages, including:
Medical expenses
Lost wages
Pain and suffering
Emotional distress
Property damage
In cases where the truck driver or trucking company's actions were particularly egregious, you may also be eligible for punitive damages, which are designed to punish the wrongdoer and deter others from similar behavior.
Choosing the Right Truck Accident Lawyer
When choosing a truck accident lawyer, it's essential to select someone with the experience and knowledge necessary to handle your case. Look for a lawyer who has a track record of success in truck accident cases and who is willing to fight for your rights.
At The Loeschen Law Firm, we are dedicated to helping truck accident victims get the compensation they deserve. Contact us today to schedule a free consultation and learn more about how we can help you.
Feeling social?
Find us on Facebook!