Auto accidents can be complicated, but having a skilled and knowledgeable attorney at your side can make the process a lot simpler. Learn what to look for when considering an auto accident attorney, and get tips on how to navigate the claim process efficiently and effectively.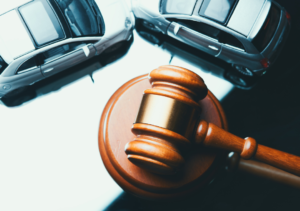 How to Find an Auto Accident Attorney
Finding an experienced lawyer to represent you in an auto accident case can be daunting, but it's important to select a lawyer who is well-versed in the laws and regulations pertaining to automobile accidents. Research lawyers online, read client reviews, and get referrals from other attorneys or former clients. Interview potential attorneys to ask about their qualifications, experience handling similar cases, fees and payment options. Ultimately, choose the lawyer that you feel most comfortable working with.
Establishing Liability in an Auto Accident Case
Determining who is legally responsible for the accident is a crucial step in an auto accident case. Generally, the party that was negligent—that is, did not use reasonable care and caution when operating their vehicle—is liable for any damages caused. It's important to collect as much evidence from the scene of the accident as possible, including photos, witness statements and medical information. An auto accident lawyer can help you determine who was at fault by thoroughly investigating all relevant facts and evidence.
Common Damages Associated with Auto Injury Cases
The type and amount of damages awarded by the court depends on the specific circumstances of each auto accident case. Generally, victims can receive both economic and non-economic damages. Economic damages typically cover physical losses or the monetary value of an injury while non-economic damages compensate for mental anguish or pain and suffering. In some cases, punitive damages may also be awarded to punish negligent parties for their wrongdoing.
What to Expect From Your Auto Accident Claim Process
When filing an auto accident claim, it is important to be patient and understand that the path to complete compensation may take time. Make sure you have all the necessary paperwork such as medical bills and police reports, so that your lawyer can move forward with your case. Additionally, meet regularly with your lawyer to discuss updates on the legal process and make sure that your interests are being met. While auto accident claims can sometimes seem complex or daunting, the right legal resources should ensure a smooth experience.
Preparing for Your First Meeting with an Auto Accident Lawyer
Before meeting with an auto accident lawyer, there are a few steps you should take in order to maximize your understanding of the legal process. Research lawyers ahead of time to get familiar with their respective areas of expertise and fee structures. Gather any documentation that is relevant to your case such as medical records, witness statements, and police reports. Know the details of your crash and the specifics of how it has impacted your life, so that you can provide a comprehensive overview for your lawyer.
Find us on social: