Tint Law in VA
Driving a vehicle in Virginia with dark tinted windows? Make sure you're aware of the laws and regulations about window tinting before hitting the road. This guide provides an overview of Virginia's window tint law, including acceptable levels for cars, trucks and other vehicles.
Types of Window Tint Allowed in Virginia.
The window tint regulations in Virginia allow for a maximum light transmittance of 28% for the front side windows, and 8% for rear side or back windows. This means that 28% of sunlight will be allowed to pass through the window film, which effectively reduces glare and heat from entering the vehicle. For rear side windows or back windows, only 8% of light can pass through. The regulations also state that no amount of red reflective material may be used on any part of the car's window tinting.
Virginian Regulations for Windshield and Front Side Windows.
According to Virginia tint law, drivers must follow specific regulations when it comes to tinting windshields and front side windows. These rules stipulate that the front side window's light transmittance must be no less than 28%, with a tolerance of up to three percent. Additionally, the reflection level is also limited and no bondable metallized reflective materials used on any part of the car's window tinting can touch or cross its AS-1 imaginary line.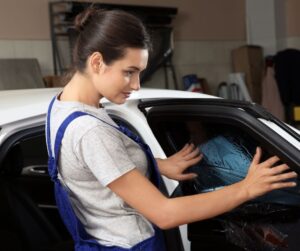 Reflection Limits for Window Tints in VA.
Sunlight reflection from the car's tinted windows should not exceed 25% for the front side and windshield windows and 20% for rear side and back windows. This is measured by looking at a tint film straight on, with an optical filter set at a 90-degree angle when measuring the exterior window reflection. No metallic films are allowed in Virginia, but ceramic tints are approved as long as they meet state standards.
Other Requirements According To VA Law.
When it comes to window tint law in VA, note that you cannot use any tint films on your windshield and side windows that aren't factory-installed when the car was purchased. Rearview mirrors must remain visible from both inside and outside the vehicle for safety reasons and for police officers to be able to do visual identity checks if needed. Medical exemptions are available if a valid doctor's note is provided.
How Side Mirrors Impact Tinting in Virginia?
When it comes to tinting the side mirrors of vehicles in Virginia, if the mirror is a factory-installed part of the car, you cannot add any tint film to it without potentially violating state window tint laws. However, if you have changed your side mirrors for some reason and are using aftermarket parts, you will likely be able to tint them as long as you don't exceed legal tint levels.
Got questions about tint law in VA? Contact us!
Find us on Social sites: